Cathe Linton
Home

Glass Artists

Jewelry Artists
Metalsmith
Wearables
Ordering Informatation
Cathe has twice won the DeBeers Diamond Competition for jewelry design. She has been juried into many craft shows sponsored by the American Craft Museum starting with the Rhinebeck Show in the early 70's and the Baltimore Shows later. Also participating in the Rosen Shows. Her designs are highly prized by the Hollywood elite and her jewelry has been featured in galleries and stores including Saks, Bendel's, and Harrod's.
Her career started as a very successful fast paced High Fashion Model. Working with the likes of Ralph Lauren and Geoffrey Beene, she learned how to structure designs for the body.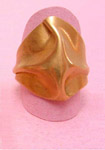 14K four-fold
ring . . $760.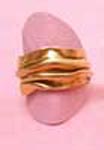 14K compression
ring $600.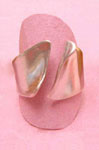 Sterling silver
butter curl ring
$90.

Infinity ring shown in
sterling silver $90,
14K Infinity ring $600.
Please call or email to confirm prices on rings.